voici l'itinéraire effectué, en rouge les liaisons aériennes, en bleu les trajets terrestres.
here's the final itinerary. red indicates plane travel, blue, over land.

cliquez sur l'imagette pour voir l'itinéraire dans une nouvelle fenêtre. click on thumbnail to open the map in a new window.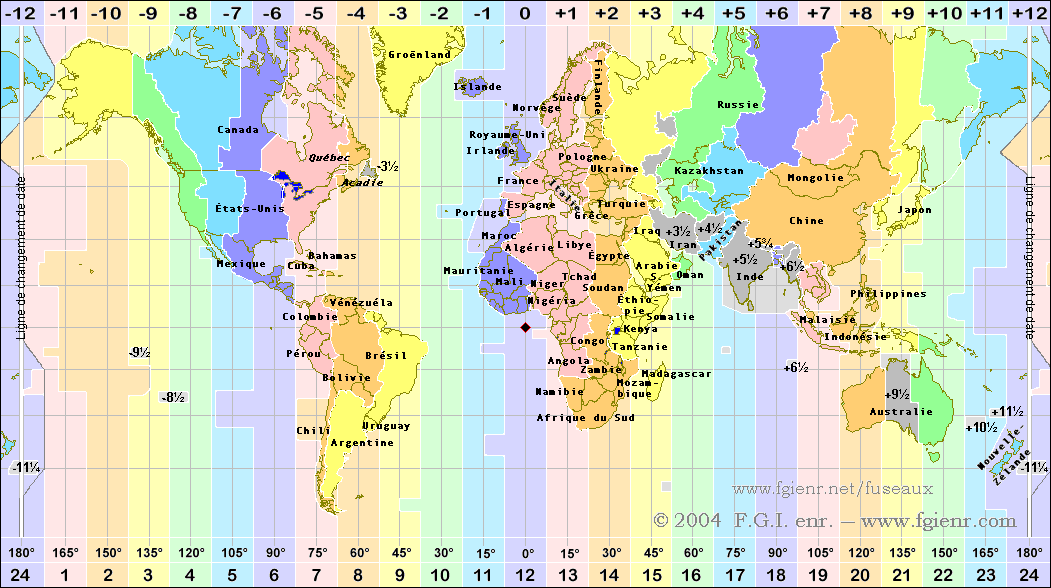 pour voir les fuseaux horaires mondiaux, cliquez sur l'imagette. et si vous n'aimez pas calculer, voici une ressource qui vous donne l'heure qu'il est partout sur la planète. to see world's time zones, click on thumbnail. and if maths never was your forte, here you can see what time it is everywhere on the globe.
plan de vol | flight plan
pour les amateurs de détails… flight details for the curious…
1 AA - American - Flight 1405
Date: Sunday, December 10, 2006
From: Pierre Elliott Trudeau Intl Arpt, Montreal PQ - Canada
To: Miami Intl, Miami FL - U.S.
Departs: 6:05 PM Arrives: 9:45 PM
2 AA - American - Flight 943
Date: Sunday, December 10, 2006
From: Miami Intl, Miami FL - U.S.
To: Ministro Pistarini, Buenos Aires Argentina
Departs: 11:20 PM Arrives: 10:00 AM Next Day
3 LA - Lan Airlines - Flight 841
Date: Friday, January 26, 2007
From: Arturo Merino Benitez, Santiago Chile
To: Mataveri Intl Arpt, Easter Island Chile
Departs: 8:50 AM Arrives: 12:10 PM
4 LA - Lan Airlines - Flight 833
Date: Wednesday, January 31, 2007
From: Mataveri Intl Arpt, Easter Island Chile
To: Intl Tahiti Faaa, Papeete French Polynesia
Departs: 10:25 PM Arrives: 11:20 PM
5 QF - Qantas Airways, Operated By: AIR TAHITI NUI - Flight 3826
Date: Tuesday, February 13, 2007
From: Intl Tahiti Faaa, Papeete French Polynesia
To: Auckland Intl Arpt, Auckland New Zealand
Departs: 3:00 AM Arrives: 7:50 AM Next Day
6 QF - Qantas Airways, Operated By: JETCONNECT - Flight 4133
Date: Wednesday, February 14, 2007
From: Auckland Intl Arpt, Auckland New Zealand
To: Christchurch Intl Arpt, Christchurch New Zealand
Departs: 1:00 PM Arrives: 2:20 PM
7 QF - Qantas Airways - Flight 46
Date: Friday, February 23, 2007
From: Christchurch Intl Arpt, Christchurch New Zealand
To: Sydney Kingsford Smith Arpt, Sydney NS - Australia
Departs: 3:35 PM Arrives: 4:50 PM
8 CX - Cathay Pacific - Flight 102
Date: Tuesday, March 27, 2007
From: Brisbane Arpt, Brisbane Australia
To: Hong Kong Intl, Hong Kong Hong Kong
Departs: 1:10 PM Arrives: 8:00 PM
9 CX - Cathay Pacific - Flight 312
Date: Saturday, April 14, 2007
From: Hong Kong Intl, Hong Kong Hong Kong
To: Beijing Capital Arpt, Beijing China
Departs: 4:50 PM Arrives: 8:00 PM
10 GF - Gulf Air - Flight 135
Date: Saturday, June 23, 2007
From: Delhi Indira Gandhi Intl, Delhi India
To: Seeb Intl, Muscat Oman, Sultanate Of
Departs: 6:30 PM Arrives: 8:10 PM
11 GF - Gulf Air - Flight 65
Date: Saturday, June 23, 2007
From: Seeb Intl, Muscat Oman, Sultanate Of
To: Bahrain Intl Arpt, Muharraq Bahrain
Departs: 9:00 PM Arrives: 9:30 PM
12 GF - Gulf Air - Flight 43
Date: Monday, June 25, 2007
From: Bahrain Intl Arpt, Muharraq Bahrain
To: Ataturk Arpt, Istanbul Turkey
Departs: 10:25 AM Arrives: 2:20 PM
13 BA - British Airways - Flight 675
Date: Monday, July 02, 2007
From: Ataturk Arpt, Istanbul Turkey
To: Heathrow, London United Kingdom
Departs: 8:55 AM Arrives: 11:00 AM
14 BA - British Airways - Flight 754
Date: Monday, July 02, 2007
From: Heathrow, London United Kingdom
To: Basel Mulhouse Arpt, Basel Switzerland
Departs: 1:35 PM Arrives: 4:20 PM
15 BA - British Airways - Flight 753
Date: Monday, July 23, 2007
From: Basel Mulhouse Arpt, Basel Switzerland
To: Heathrow, London United Kingdom
Departs: 12:15 PM Arrives: 13:15 PM
16 BA - British Airways - Flight 95
Date: Monday, July 23, 2007
From: Heathrow, London United Kingdom
To: Pierre Elliott Trudeau Intl Arpt, Montreal PQ - Canada
Departs: 5:40 PM Arrives: 7:40 PM